Skylight Installation in Prospect, Naugatuck, & Nearby CT Areas
Add natural light and improve energy efficiency with a new skylight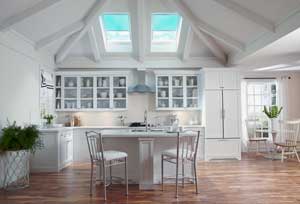 VELUX skylights can let natural light into your kitchen or any room in your home.
Are you looking to add natural light to your home? How about improving your energy efficiency? If so, new skylights are a great option for you!
Weathertite Systems, LLC installs quality skylights that will improve the lighting in your home and give your rooms a more open feel. We can provide you with the perfect skylight to fit your needs and match any room in your house.
If you want to add a new skylight to your home, give us a call today at 1-855-225-1340 or click below to get started! We offer free estimates in Cheshire, Prospect, Naugatuck, Wolcott and throughout the surrounding areas.
Products
Velux has been an industry leader in skylights and roof windows for over 60 years, providing high quality, energy efficient options for homeowners around the world.
Benefits of Velux Skylights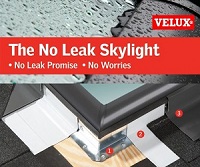 Natural Light: Skylights increase the amount of sunlight in your home, lessening the use of electric lights
Fresh Air: Skylights add to the airflow in your home and can reduce the need for air conditioners
Privacy: Adding a skylight in a bathroom is great way to create natural light and a view without sacrificing privacy
Increased Storage: Using skylights as the primary lighting for a kitchen will free up walls that can be used for cabinet space
Modern Benefits: Skylights with blinds offer total control for light, while Velux skylights come with sensors that automatically close at the first sign of rain
A new skylight creates a better room
While a skylight may seem like a simple addition, it can offer some great benefits to your home.
Better lighting: A new skylight will increase the light flow into your room, allowing you to use less electricity.
Add natural light: A skylight is a great way to bring natural light in a private room such as a bathroom or walk-in closet.
More open feel: Skylights open up the ceiling to the outdoors, create an illusion of more space that can be very helpful in smaller rooms or areas with lower ceilings.
Improved energy efficiency: Old skylights often have worn weather seals that allow air flow, causing you to waste money on utility costs. A new installation will solve these problems.
Get a new skylight for your home today
If you want to install a skylight in your home, Weathertite Systems, LLC is here to help. We will help identify the best locations to get the most from the window, and we always work with the highest quality products available.
Call us today to get started on skylight installation with a free estimate! We offer all our services in Prospect, Naugatuck, Cheshire, Wolcott, Southbury, Woodbury, New Haven, Brookfield, Trumbull, Milford, Danbury and throughout the surrounding areas.
Looking for a price? Get a no cost, no obligation free estimate.