Local roofing, siding, and home improvement company in Guilford, CT
If you are a homeowner or business owner in Guilford, CT, you know that your home's exterior needs to be able to take a beating from the New England weather. Wind, rain, and snow can cause problems for your roof and siding, especially if they haven't been inspected or updated in some time. When it comes to your comfort and safety, you should never settle for less than the best. That's why it's so important to make sure that every part of your home's protective system is working to the best of its ability, so you can have the peace of mind that comes from knowing your property is sturdy and secure.
Weathertite Systems, LLC is your regional roofing contractor and home improvement specialist serving Guilford, CT, and surrounding areas ever since 2002. As a family owned and operated roofing company, we will do everything we can to give your home the same quality of service that we would want for our own. Our dedication to our customers has earned us an A+ rating from the Better Business Bureau, and we are an Owens Corning Platinum Preferred Contractor and a CertainTeed Master Shingle Applicator. This means that we are fully qualified to take on any residential or commercial roofing project along with our high-quality siding installation, window replacement, and hardscaping services. If you're ready to schedule your in-home consultation and free cost estimate, don't hesitate to contact us!
Siding installation for your Guilford, CT home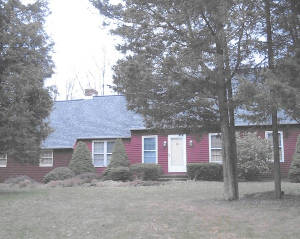 We completed a siding replacement to give this CT home a classic, old-fashioned look.
When you need residential or commercial siding services in the Guilford area, Weathertite Systems, LLC is the siding contractor that you can rely on for lasting results and quality workmanship. We offer top-notch siding installation options, including:
Durable fiber cement siding
Cost-effective vinyl siding
Beautiful wood siding
Classic stone and brick veneer siding
Low-maintenance aluminum siding
All of our siding replacements are energy-efficient and weather resistant, so you can enjoy better protection from the outside elements while also cutting back on your heating and cooling costs. Whether your current siding is cracked or faded or you simply want to upgrade your home's exterior appearance, a Weathertite Systems, LLC siding installation is guaranteed to boost curb appeal, property value, and energy-efficiency! When you schedule an in-home consultation with Weathertite Systems, LLC, your local siding company, we will help you select the perfect style and material to complement your home or commercial property.
Expert roof repair and roof installation in Guilford, CT
Completed Harbor Blue shingle roof installation for a CT home.
As a homeowner, a roofing emergency can seem like a nightmare that will be impossible to fix. Not only are you dealing with the stress and hassle of completing an insurance claim, you might also find yourself with serious roof leaks or structural damage caused by fallen trees or branches. The good news is, Weathertite Systems, LLC is your experienced roofing contractor ready to help with emergency roof repair, professional roof inspections, and more. We can take care of hail damage repair, roof snow removal during the winter, ice damage prevention, wood rot repair, roof ventilation, and more. Our roof repair services in Guilford are fast and efficient so that you can get back to your normal routine as soon as possible!
Sometimes a roofing problem is too extensive to take care of with roof repairs, and a roof replacement becomes the only option. Alternatively, if your roof is 20 years or older and showing the wear and tear of age, upgrading to a replacement roof will be a smart investment in terms of protection and property value. As a full-service roofer, we provide both residential and commercial roof installations throughout the Guilford area. Our large selection of replacement roof options from manufacturers such as GAF Roofing Shingles, Owens Corning Roofing, and CertainTeed Roofing includes:
Asphalt shingle roofing
Flat roofing
Wood shakes and shingles
Energy-efficient shingles
Rubber roofing
Composite roofing
Upgrade your gutters and downspouts in Guilford, CT
Your gutters work together with your roofing system to remove excess water and prevent moisture damage, so it's worth the investment to make sure that your gutters are functioning well and are doing their job. If you settle for damaged or clogged gutters, all sorts of problems can occur from erosion and discoloration on your roof and siding to foundation leaks and basement flooding.
Here at Weathertite Systems, LLC, we provide gutter cleaning as well as new gutter installation and gutter guards. We can replace your faulty gutter system with seamless aluminum gutters or copper gutters that will blend in with your roof and provide lasting water protection. Best of all, our gutter installations will require no maintenance on your part, so you can put the ladder away for good!
We provide replacement windows, hardscaping, brick work, and more
We replaced the outdated kitchen window for this CT home with a beautiful replacement window.
Are you thinking of remodeling your Guilford home? One of the quickest and most cost-effective projects you can undertake to give your home a fresh new look is replacing your windows. Weathertite Systems, LLC's high-quality window replacements will prevent air leaks and drafts while letting in the sunlight and adding beauty and style to your home.
We offer window installation styles such as bay and bow, casement, double-hung, and sliding in materials such as vinyl, fiberglass, and wood.
Our other home remodeling services include brick work, hardscape designs, chimney installation, chimney caps and covers, and more. We can also help you upgrade your home's exterior with deck restoration or a new deck installation, complete with custom handrails in a variety of styles and materials. Every homeowner has a vision of his or her dream home – we want to help you make yours a reality!
Gutter contractor providing Guilford with gutter installation and more
Weathertite Systems, LLC also provides a variety of gutter services including gutter installation and gutter replacement services using a wide range of quality materials. We also are proud to offer some of the best gutter protection around with Gutter Helmet by Weathertite Systems. Gutter Helmet by Weathertite Systems lets you keep debris out of your gutters while still letting water in.
Weathertite Systems, LLC is the leading roofing contractor, siding company, and home improvement expert in Guilford, CT, and areas nearby. Contact us today for a free cost estimate on roof repairs, roof replacement, siding installation, window replacement, or any of our other services in Guilford, CT!