Experienced roofing, siding, and windows company serving Danbury, CT
Danbury homeowners will witness both the best and the worst of Connecticut weather, from hot, humid summers to cold, snowy winters. While the four distinct seasons of New England can be beautiful, these changes in temperature and precipitation can also cause problems for your home's exterior. That's why Weathertite Systems, LLC is here for you, your full-service home improvement contractor in Danbury, CT offering roof repair, roof replacement, siding installation, and more!
We are a family owned and operated roofing company with 15 years of experience providing permanent roofing, siding, and window solutions throughout the Danbury area. Every project we undertake is completed with the best quality materials and workmanship. We hold an A+ rating with the Better Business Bureau, and we are an Owens Corning Platinum Preferred roofing contractor with an excellent reputation for customer satisfaction. Whether you need residential or commercial roofing or siding, we can help! Don't hesitate to contact us to schedule your no-obligation consultation and free cost estimate in Danbury, CT, or a nearby city or town.
Residential and commercial roofing in Danbury, CT
This CT home had a serious roof leak problem. We installed a brand new roofing system that will provide better drainage and prevent water buildup.
When you have roof damage, it's important to find a solution as soon as possible. Not only will roof problems grow worse if left unfixed, they can also lead to much more costly and extensive work later on. When the winter months come around, it's especially important to make sure that your roof is in good condition so that you can stay safe and dry through snow storms and ice buildup.
Our roof repair services include hail damage repair, ice damage prevention, ridge vents and roof ventilation, wood rot repair, and more. We also provide roof snow removal during winter months, as well as emergency roof repair for serious and unexpected damage. The safety of your home is our specialty, and we will do everything we can to make your roofing system weather resistant and watertight!
We also specialize in durable, long-lasting roof replacements from leading manufacturers such as GAF Roofing Shingles, CertainTeed Roofing, and Owens Corning Roofing. Our roof installations are available for both residential and commercial properties, and we provide replacement roofs in styles such as:
Asphalt shingle roofing
Flat roofing
Wood shakes/shingles
Energy-efficient shingles
Rubber roofing
Composite roofing
We offer lifetime workmanship warranties for the life of the material for our new roof installations, so you can stay confident that your roof will last for years to come.
While the experts at Weathertite Systems, LLC are working on your roofing project, we can also upgrade your gutter system to ensure that your home is protected from water damage. From gutter cleaning and gutter guards to complete gutter installation, we will make sure that your roof, gutters, and downspouts are working together to carry excess water down from your roof and away from your foundation. We work with seamless aluminum gutters and copper gutters, and we will ensure that your new gutter replacement will never clog or overflow.
Best siding contractor in Danbury, CT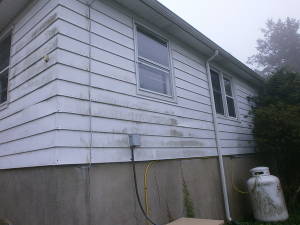 Does your siding look like this? We can replace faded or damaged siding in Danbury, CT.
If you've been noticing these warning signs, it's probably time for a siding replacement for your Danbury home:
High heating and cooling bills
Rotted or warping siding
Cracked or loose sections of siding
Mold growth or mildew
Faded siding or paint peeling
Weathertite Systems, LLC is your reputable siding company in Fairfield County, CT, and we provide both residential and commercial siding installation. We specialize in James Hardie fiber cement siding replacement as well as vinyl siding, wood siding, aluminum siding, and stone and brick veneer. These low-maintenance, energy-efficient siding options will significantly lower your energy bills while adding valuable protection against the outside elements. Furthermore, a new siding installation can do wonders for your home's exterior appearance!
Replacement windows for your Danbury home
Are your windows difficult to open and close, or do they let in drafts? Old or faulty windows can result in air leaks that will ruin your home's interior comfort. A window replacement upgrade can make all the difference in energy-efficiency and temperature control! Weathertite Systems, LLC provides beautiful and sturdy window installation in Danbury, CT, certain to add style and function to any home.
Upgrade your Danbury home with beautiful window replacements from Weathertite Systems, LLC.
Choose from vinyl windows, fiberglass windows, and wood windows, in a large variety of styles such as:
Bay and bow windows
Casement windows
Double-hung windows
Sliding windows
Awning windows
Picture windows
Window replacement is one of the simplest and most affordable home remodeling projects that you can invest in, and the right windows can provide a significant boost for your home's aesthetic appeal - both inside and out.
Are you interested in upgrading your home with hardscaping or brick work? We can help with that too! We offer chimney repair, chimney inspection, chimney cleaning, and more. We also offer quality deck installation, porch installation, and outdoor handrails to upgrade your home's exterior with a lovely outdoor living space.
Gutter contractor providing Danbury with gutter installation and more
Weathertite Systems, LLC also provides a variety of gutter services including gutter installation and gutter replacement services using a wide range of quality materials. We also are proud to offer some of the best gutter protection around with Gutter Helmet by Weathertite Systems. Gutter Helmet by Weathertite Systems lets you keep debris out of your gutters while still letting water in.
Weathertite Systems, LLC is the roofing, siding, and window contractor that you can rely on for all of your home improvement needs from roof repair and roof installation to siding replacement, window replacement, and more. We proudly serve Danbury and nearby cities and towns in Connecticut. Contact us for a free, no-obligation cost estimate and get started on your home upgrades today!